januari 19, 2018 at 10:14 , by christel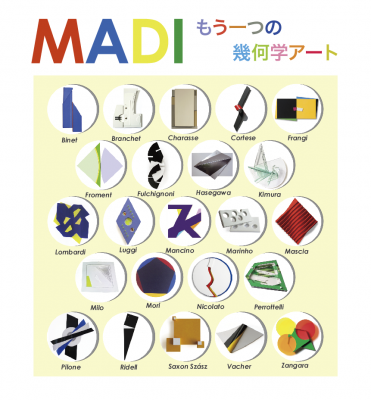 MADI. The Other Geometry
Curated by Cristina Costanzo
21st Century Museum of Contemporary Art, Kanazawa
January 31 – February 11, 2018
The exhibition "MADI. The Other Geometry", curated by the art historian, critic and curator Cristina Costanzo, will open on Thursday 31st January, 11:00 a.m. at the 21st Century Museum of Contemporary Art of Kanazawa.
Made possible with the support of K.K. ALP – (Kanazawa) and K.K. YAMADA – (Kobe), the exhibition is organized and promoted by NPO Tsunagu Japan & Italy and the Italian Institute of Culture of Osaka and is coordinated by Alessandra Korfias – Arti Services.
"MADI. The Other Geometry" honors the International MADI movement with a particularly significant selection of artworks, combining twenty-three artists of different nationalities: Dominique Binet, Jean Branchet, Jean Charasse, Franco Cortese, Reale Franco Frangi, Joël Froment, Aldo Fulchignoni, Sakae Hasegawa, Jahildo Marinho, Yumiko Kimura, Alberto Lombardi, Gino Luggi, Enea Mancino, Vincenzo Mascia, Renato Milo, Mitsouko Mori, Gianfranco Nicolato, Antonio Perrottelli, Marta Pilone, Torsten Ridell, János Szász Saxon, Philippe Vacher, Piergiorgio Zangara.
The exhibition is organized with the Scholarly Advisory Committee composed of Laura Bica, Cristina Costanzo, Patricia Avena Navarro and Paola Silvia Ubiali and the patronage of Consolato Generale d'Italia – Osaka, Hokkoku shinbun, Dipartimento Culture e Società of Università degli Studi di Palermo and Galleria Marelia of Bergamo.
MADI is an artistic phenomenon of international breadth whose originality is grounded in its will to destructure reality to then reconstruct it through the oppositional distancing from its imitation. The materiality of the artistic work, united by its aniconism and anti-imitation, allows us to place the movement within non-figurative art, particularly geometric abstraction.
"The title of the exhibition itself, MADI: The Other Geometry – as Cristina Costanzo writes – underlines the insertion of the movement in the millenary connection between art and geometry and emphasizes the innovative capability of the selected works".
MADI was founded by Carmelo Arden Quin, a major figure of the Latin American avant-garde, in Buenos Aires in 1946 and it is based on the principles of no-expression, no representation, no simbolysm. According to Madi, acronym of MAterialism DIalectic that refers also to non-sense and casualness, "artwork is, does not represent; artwork is, does not express; artwork is, does not mean". Madi answers to the crisis of traditional painting caused by the historical Avant-gardes and to the limits of Concretism with innovative artistic forms and with the dynamic representation of geometric figures in the space. The harmony between chromatic refinement and formal balance shows itself in innovative artworks made of overlappings, joints, extroversions and articulations of form, colour and space. Thus, MADI really boasts a history of more than seventy years that has opened a dialog between Buenos Aires and Paris, which (after the 1980s), included even more cities and countries.
According to Stefano Fossati, director of Italian Institute of Culture of Osaka, "This exhibition project, with its strong educational goals, holds many surprises for the visitors to the Museum of Kanazawa, giving them the opportunity to discover an artistic phenomenon of a wide significance. Already well known in Europe and Latin America, this movement merits attention in Japan due to the opportunities it offers for the confluence of diverse cultures".
At the exhibition, the catalog "Madi. The other Geometry" (bilingual edition, English and Japanese), edited by Cristina Costanzo and published by Contesti, will be presented. The catalog is accompanied by a rich iconographic apparatus and includes contributions by Cristina Costanzo, Patricia Avena Navarro and Paola Silvia Ubiali and resources by Eugenia Presti.
Torsten Ridell is a member of Mediaverkstaden Skåne.